Diego Carrasco & Diego del Morao & Jesús Méndez & Miguel Poveda & Moraíto Chico
Terremoto de jerez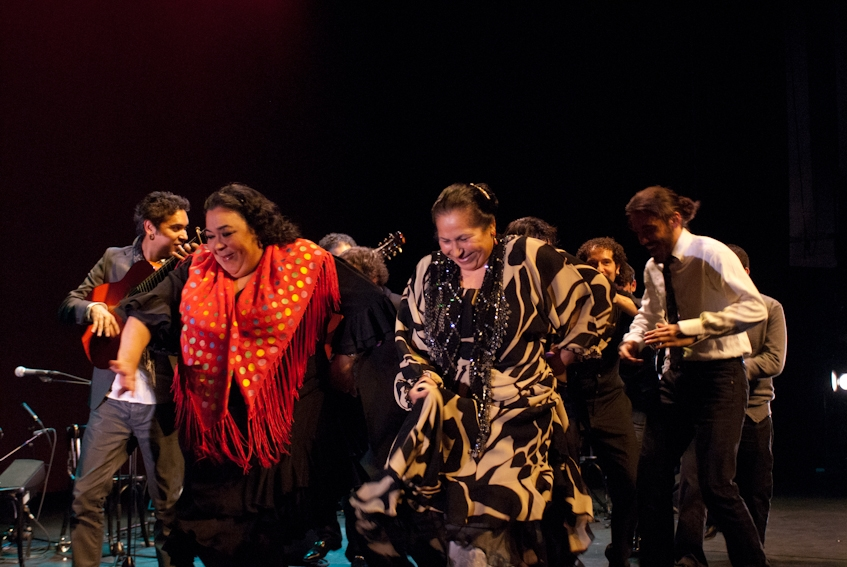 The voice of Fernando Terremoto (1969 - 2010) echoed the flamenco of his ancestors. Especially that of his father, the great gypsy singer Terremoto de Jerez of whom people used to say: 'if pain was ever beautiful, it was when Terremoto sang'.
Zoon Fernando Jr. had diezelfde gebarsten stem, gesmeed uit het edelste metaal en vol muzikaliteit, die een innerlijke 'aardverschuiving' - terremoto - teweeg kon brengen. Een sterrencast van dansers, zangers en gitaristen uit Jerez de la Frontera verenigt zich tijdens deze Flamenco Biënnale om de zanger met een groots muzikaal feest te eren.
De avond is ook een viering van het leven, van de traditie, van het ritme van Jerez, die onuitputtelijke kweekvijver van flamenco. Ritmeduivel Diego Carrasco loopt als een jongleur door het mozaïek aan zigeunerfamilies. Dit alles onder stuwende leiding van de gitaren van Moraíto Chico en zoon Diego del Morao, meesters van de soniquete (swing) de Jerez. Jerez toont zich in al zijn luister en ritmische pracht met één geadopteerde zoon: Miguel Poveda. De zanger uit Barcelona, die over de hele wereld triomfen viert en de vorige Biënnale glorieus afsloot, heeft zijn tweede thuis in Jerez gevonden en komt zijn speciale hommage brengen aan vriend Fernando Terremoto. Een unieke sterrenconstellatie staat voor een avond barstensvol ritme zoals die alleen in Jerez gevierd en geleefd kan worden. We verwachten een kleine 'Terremoto de Jerez' in Amsterdam.