Alexis Lefèvre & José Quevedo 'Bolita' & Maarten Ornstein & Oene van Geel & Pablo Martín & Paquito González & Tony Roe
Ultra high flamenco (festivalcreation 2015)

What happens when you let three renowned Dutch jazz musicians team up with four top 'flamencos'? That's what we will find out in this new creation of the Flamenco Biennial.
Swinging flamenco jazz from Dutch/Spanish soil
The Ultra High Flamenco [UHF] quartet loves improvising inside and outside flamenco. The band led by bassist Pablo Martín excels at innovative and jazzy interpretations of various traditional flamenco styles. Together with the Dutch Oene van Geel trio, plucking, picking and bowing the seven men push the envelope of flamenco's rich rhythms. This septet may spring a few surprises at the festival with new, contemporary and unexpected (flamenco) sounds. Ultra High Flamenco in the Low Countries! [group photo 2015: Martijn van Beenen]
A full night's entertainment:
19:00 documentary Beyond the Double Bass - Renaud García-Fons
20:30 concert La Línea del Sur - Renaud García-Fons
22:15 concert Ultra High Flamenco feat. Oene van Geel, Maarten Ornstein and Tony Roe
In between the programme La Fábrica and BvR Flamenco-jazz 6tet will perform in the foyer.
Dutch radio and television programme Vrij Geluiden made an item about Ultra High Flamenco, down here you can listen or watch the broadcast: on radio or on tv.
Read here the article by VPRO GIDS on Ultra High Flamenco.
Ultra High Flamenco is also performing on 18th January at LantarenVenster in Rotterdam and 25th January at Bimhuis in Amsterdam
'Olé to new Flamenco morals.' (...) 'Groups like UHF may inspire flamenco for years to come, "without boundaries" of any type or description.' NRC Handelsblad
'Oene van Geel is a musical adventurer, a virtuoso improviser who strokes, plucks and even drums on his instrument. With his 'chamber music sensibility, a thorough knowledge of the principles of Indian music, hardcore improvisation technique and the straightforwardness of pop music, Oene van Geel has given jazz new avenues of exploration.' VPRO Boy Edgar Award jury report
Biographies
UHF
Four musical friends who had crossed each other's paths for years as 'sidemen' of guitar masters like Tomatito, Vicente Amigo, Gerardo Núñez and pianist Chano Domínguez, in 2007 joined forces in a brand new flamenco jazz quintet. Ultra High Flamenco is 'free style flamenco'. Using the flamenco grammar as an inexhaustible source of possibilities in their compositions, the group is united by a shared musical passion to explore the boundaries of the genre with fun and imagination. In 2011 they released 'Bipolar', their second CD. The group made its début in 2008 at the second Flamenco Biennial.
www.ultrahighflamenco.com
Oene van Geel Viola player and composer Oene van Geel (1973) is a musical trailblazer. Influenced by jazz, Indian music, chamber music and free improvisation, he puts his virtuoso improvisational skills and his compositional talent to use in a multitude of musical activities. He has toured throughout Europe, India, Japan, the United States and Canada.As a musician, he is currently involved with Zapp4, Estafest, The Nordanians and OOOO.
www.oenevangeel.com
Maarten Ornstein is a far cry from a traditional jazz musician. The saxophonist/bas clarinet player has written music for theatre group Orkater, choreographer Anouk van Dijk, the Metropole Orchestra, New Cool Collective, Helena Rasker and the Calefax reed quintet. On their new album Bangalore, his avant-garde funk ensemble Dash! sounds like 'an Oriental version of Frank Zappa/Funkadelic' (Parool). 'Dash! lets complex rhythmical frameworks unfold into killer grooves' (Trouw).
www.maartenornstein.com
Tony Roe is the pianist, composer and band leader of the trio Tin Men & The Telephone, which is creating waves with inventive use of video, live-sampling and interactive technologies. Their latest album Appjenou?! was released in the form of a mobile phone app. Tony Roe studied classical piano at the Koninklijk Conservatorium in The Hague, jazz piano at the Amsterdam Conservatorium and music technology at the HKU. In New York he took lessons from kindred musicians Jason Moran, Jean-Michel Pilc and Ari Hoenig. He was chosen to write the Composition Assignment for the 2014 North Sea Jazz Festival.
tinmenandthetelephone.com
Ultra High Flamenco en el Festival Cultural Sinaloa 2013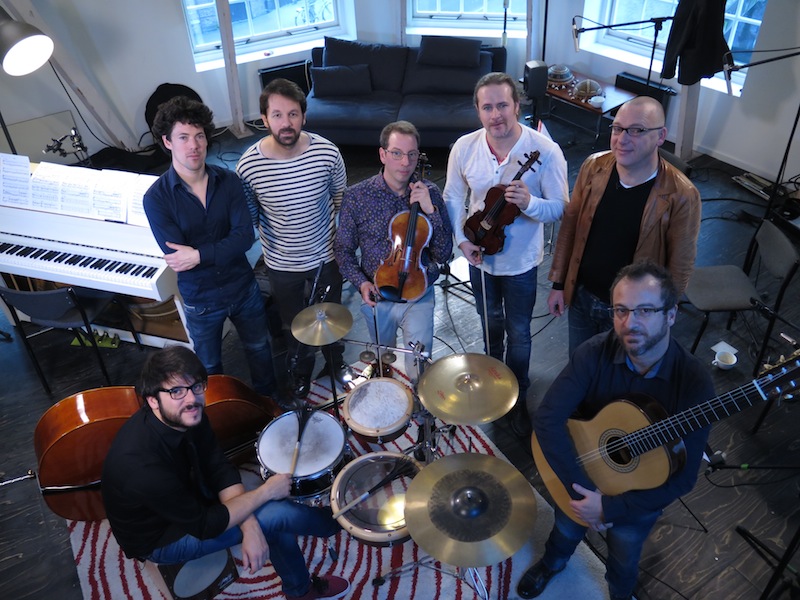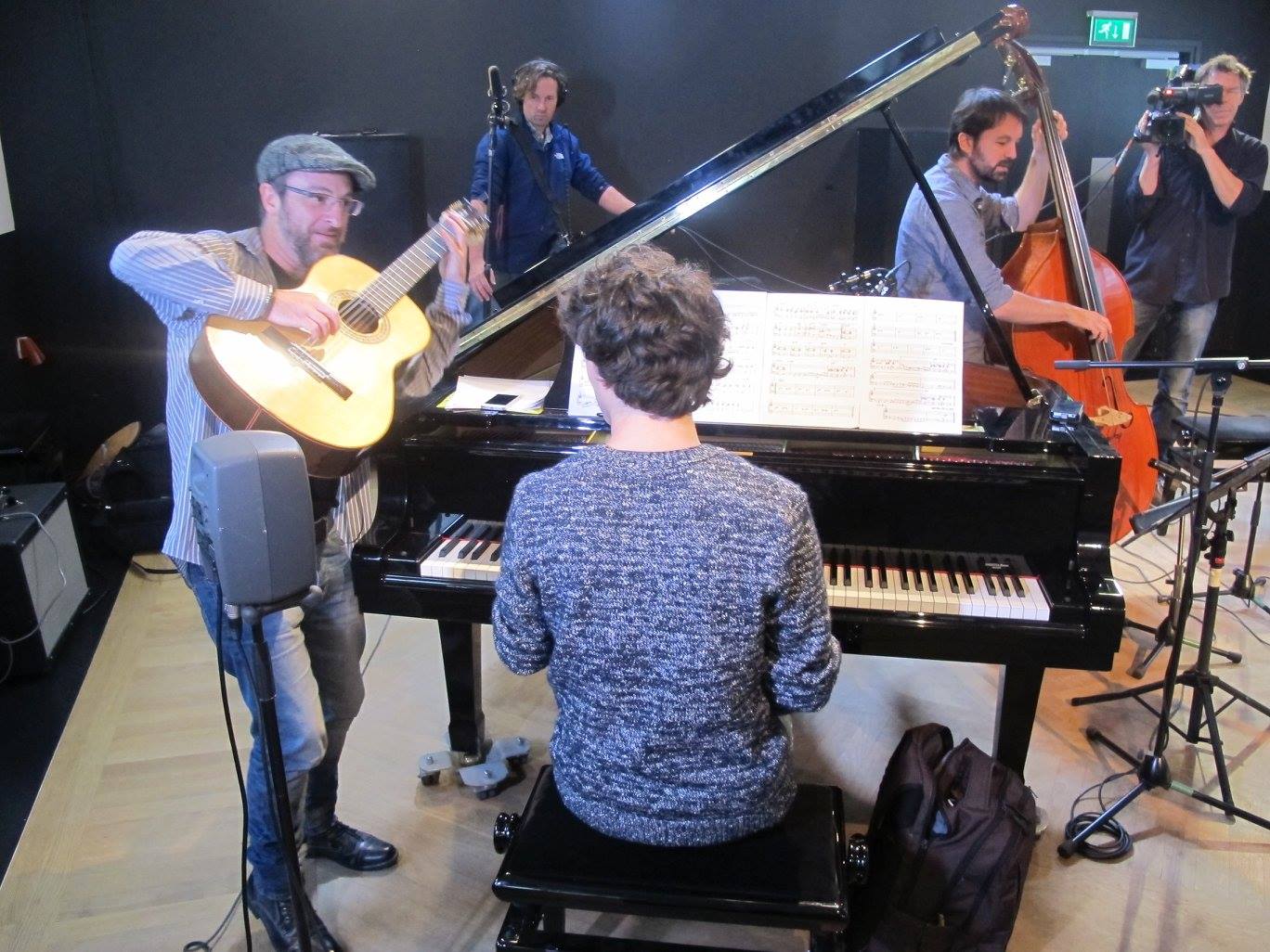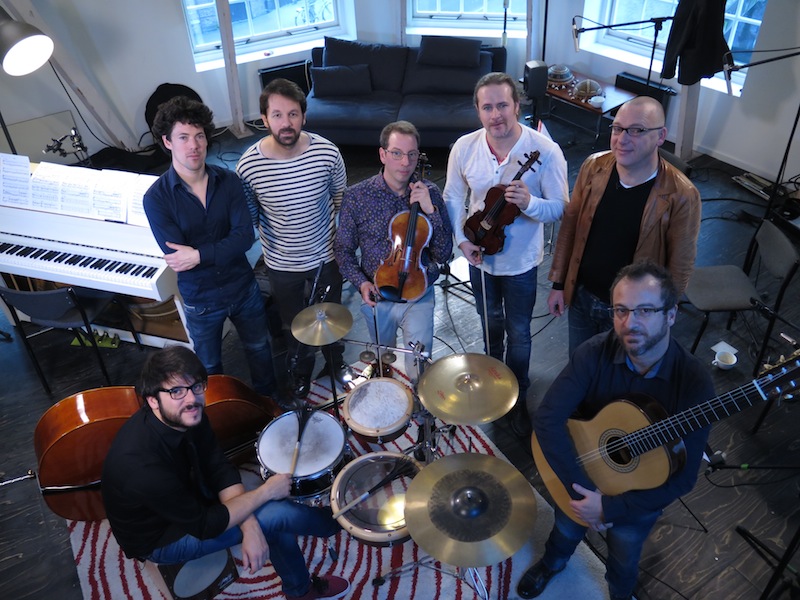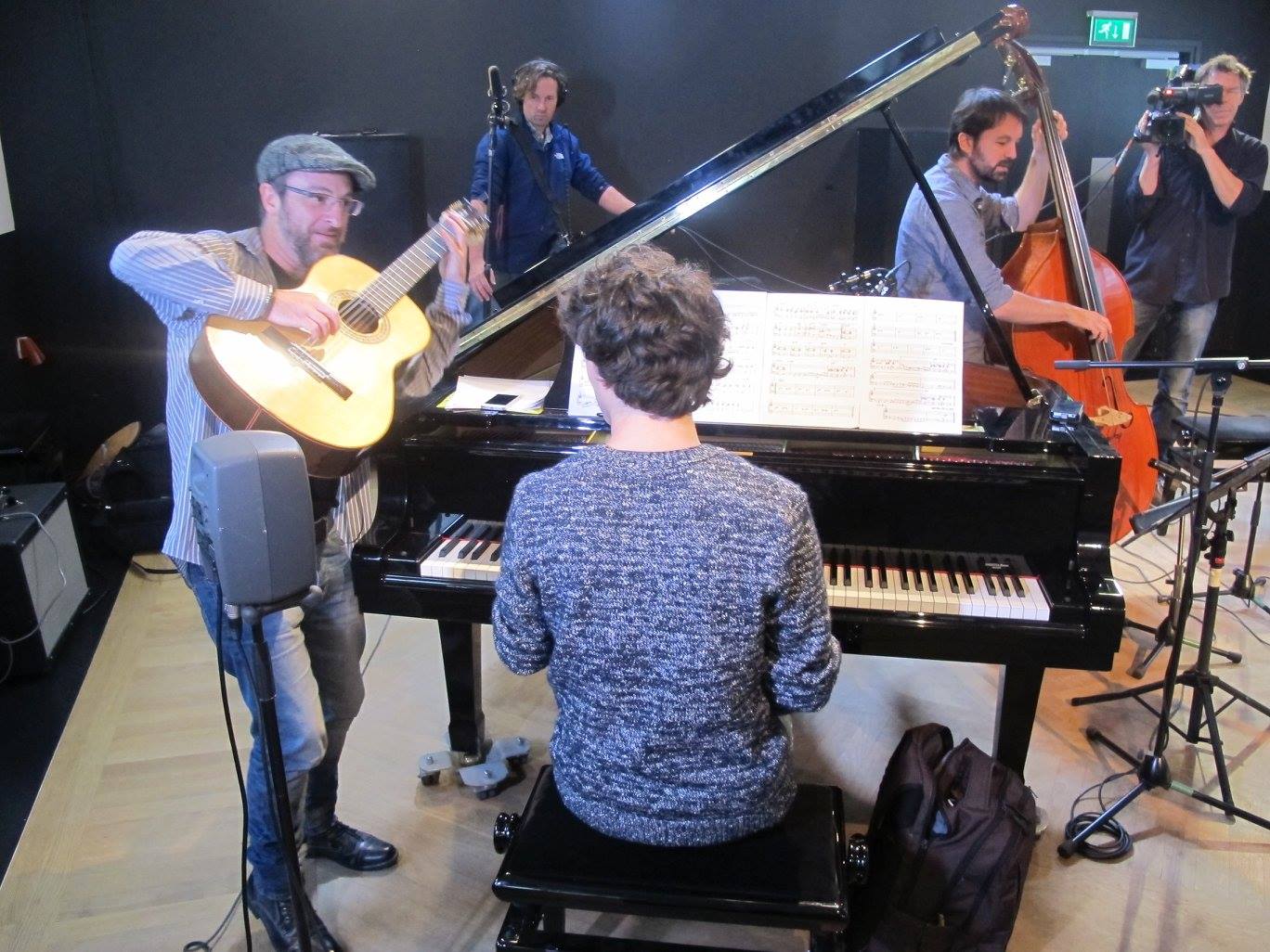 Alexis Lefèvre & José Quevedo 'Bolita' & Maarten Ornstein & Oene van Geel & Pablo Martín & Paquito González & Tony Roe
Ultra high flamenco (festivalcreation 2015)
Support Flamenco Biennale
Ultra high flamenco (festivalcreation 2015)
Ultra high flamenco (festivalcreation 2015)