Leonor Leal
Workshop beginners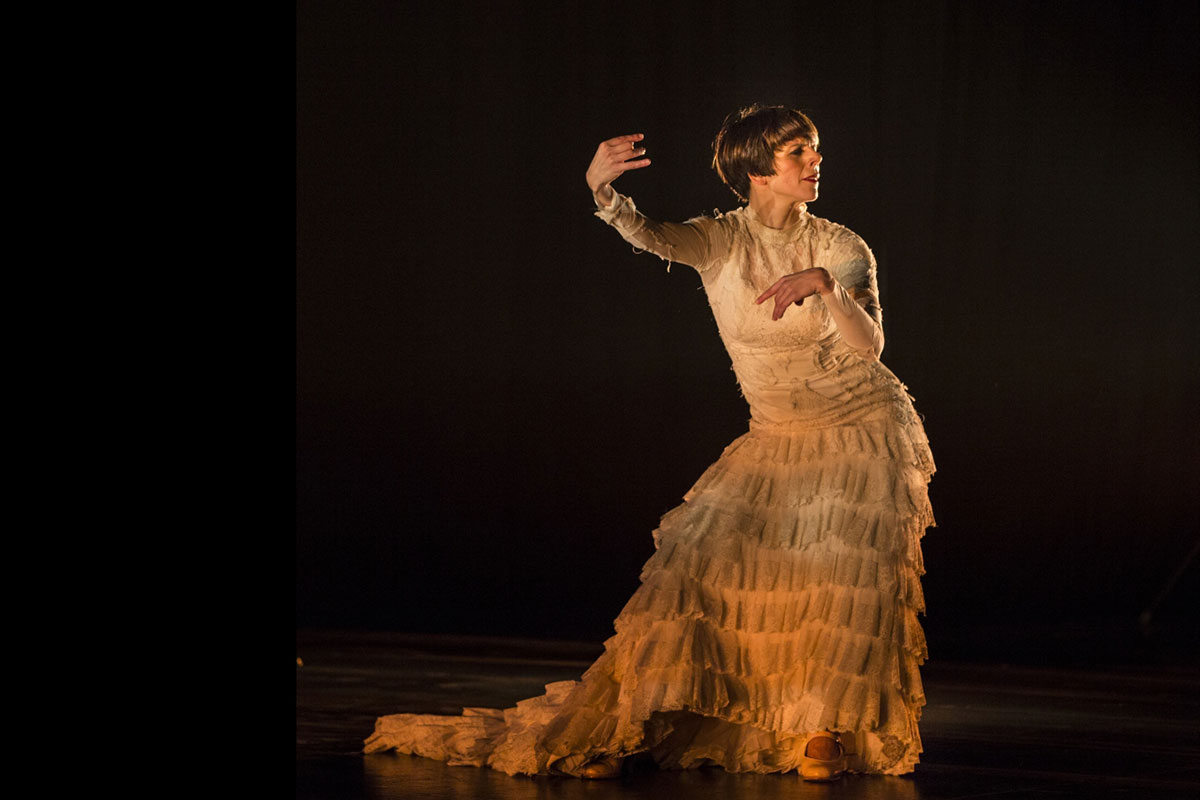 Leonor Leal (Jerez de la Frontera, 1980) studied with important dancers such as Manolo Marín, Pilar Ortega and has worked with Cristina Hoyos, Antonio Canales and Dorantes.
n 2008 she launched her solo career in and outside of Spain with 'Leolelé' and several experimental performances. During our festival she will teach a short workshop for beginners as well as a public masterclass dance to two (semi)professional dancers in The Hague. In Groningen and Eindhoven there are workshops choreography and technique. For advanced dancers she will teach an interesting Laboratorio de Creación in Amsterdam. This intensive workshop for advanced flamenco dancers is aimed at three aspects that are essential to expressing yourself in flamenco dance: technique, esthetics and improvisation. Through challenging exercises, short choreographies and creation assignments the participants will analyse the body language of flamenco. Leal will create a short presentation with the dancers in this 'laboratory', which will be presented at the Flamen>GO! final fiesta on Sunday 29 January 2017 at the Bimhuis.
In collaboration with Flamencoschool Rosario, Dance d'Ali en Estudio Flamenco el Candil.
Den Haag | beginners
Dates & times: 15 Jan | 14:30 - 15:30
Price: €22,50
Location: Korzo, Den Haag
OTHER WORKSHOPS AND MASTERCLASSES BY LEONOR LEAL:
Public masterclass dance | Den Haag
Date & time: 15 Jan | 16:15h
Locatie: Korzo, The Hague
Tickets: ticket sales will start soon
Groningen | intermediate | por tangos
Dates & times: 16, 17 & 18 Jan | 18:30 – 20:00h
Price: € 100
Location: Kolder&Ko (studio 5)
Groningen | advanced | por martinete
Dates & times: 16, 17 & 18 Jan | 20:15 – 21:45h
Price: € 100
Location: Kolder&Ko (studio 5)
Eindhoven | intermediate | por abandolaos
Dates & times: 20 Jan | 18:30 - 20:00h + 21 Jan | 11:00 - 12:30h
Price: €67,50
Location: Estudio de Flamenco El Candil, Eindhoven
Eindhoven | advanced | por romance
Dates & times: 20 Jan | 20:15 - 21:45h + 21 Jan | 12:45 - 14:15h
Price: €67,50
Location: Estudio de Flamenco El Candil, Eindhoven
Amsterdam | Advanced | Laboratorio de creación
Dates & times: 23, 24 & 26 Jan | 19:00 – 21:00h + 28 Jan | 11:00 - 13:00h
Date & time presentation: Flamen>GO! final fiesta 29 Jan | Bimhuis Amsterdam (more info to be announced)
Price: € 180
Location: Spiegelstudio Solid Ground | Tolhuistuin, IJpromenade 2 Amsterdam